Dr. Margo Thorning Explains How to Maintain Economic Growth
While Addressing Climate Change Policy

International Council for Capital Formation
December 14, 2004
Contact: Laura Braden Dlugacz, ldlugacz@dcgpr.com; 5771-7662
Corrado Clini's presentation (PPT)

Margo Thorning's presentation (PPT)
Buenos Aires, AR - On Tuesday, December 14th, the International Council for Capital Formation (ICCF) hosted a panel of climate change experts for the attendees of COP 10.
The panel included: Corrado Clini (director general of the Ministry for the Environment of Italy) on EU Competitiveness and Emission Targets, Alan Oxley (chairman of the Australian APEC Study Centre) on A New Framework for Climate Change Policy and Dr. Margo Thorning (managing director of the ICCF) on Economic Freedom and GHG Emission Reductions. The forum was sponsored by the ICCF (BE), the Istituto Bruno Leoni (IT) and the Institute for Economic Analysis (RU).
Dr. Margo Thorning - managing director of the ICCF - discussed economic freedom and GHG emission reductions.

"Increased economic freedom is the best way to promote cleaner energy use in developing countries," asserted Dr. Thorning. "Economic freedom positively impacts economic growth; faster economic growth is linked with reduced energy intensity and lower emissions per dollar of output. In other words, a focus on economic growth is a surer path forward in addressing climate change. Policies like the Kyoto Protocol aren't a step forward; they're actually a step backward because they impede economic growth with virtually no positive environmental benefits."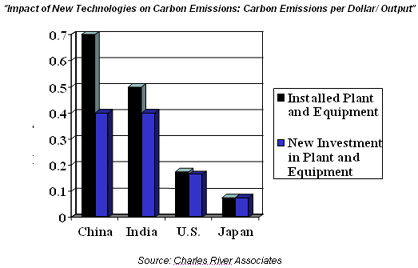 Citing the above graph, Dr. Thorning explained: "If China and India, for example, installed new industrial equipment as efficient as Japan's and US's their emission of intensity per dollar of output would drop much faster and global concentrations of CO2 would fall much more rapidly."